Most of the creatures here were photographed by chance, because they looked intriguing or appealing - there was no overall plan.
Our modest level of expertise in plants and birds does not extend to this field. We have made guesses, probably correct in the case of butterflies, less so for the others, though we have been ably assisted by Alan Outen (who must, however, not be blamed for any wrong names - we didn't consult him over everything!) Also, some of the smaller animals are a bit fuzzy - at present we don't possess a macro lens.
The insect photos are in the order usually found in identification books, but first is a summary list of all groups and species shown, to enable you to find a particular animal (or to see whether we have actually taken a photo - we know there are many gaps!).
NOTE - you may need to wait a few seconds for all the pictures to download before the list will work correctly.
Mollusca:
Sea Hare, Land Snails
Crustacea:
Sea Slater, Shore Crab
Coelentarata:
Lion's Mane Jellyfish
Insecta:
Plecoptera - Stoneflies:
possibly Perlodes sp.
Odonata - Dragonflies:
Blue Damselfly, Common Hawker, Gold-ringed Dragonfly, Common Darter
Hemiptera - Bugs:
Forest Bug
Coleoptera - Beetles:
Carabus nemoralis
Diptera - Flies:
Cranefly, Hoverflies
Lepidoptera - Butterflies:
Large & Small Skipper, Large White, Small White, Green-veined White, Small Copper, Common Blue, Red Admiral, Painted Lady, Small Tortoiseshell, Peacock, Comma, Small Pearl-bordered Fritillary, Speckled Wood, Wall Brown, Meadow Brown.
Lepidoptera - Moths:
Silver-ground Carpet, Magpie, Latticed Heath, Emperor, Noctuid (sp unknown)
Hymenoptera - Bees, Wasps & Ants:
Bumble bees
SEA HARE
Sea Hares are a sea slug often found in rock pools, this one in a bay on the South-West corner of Mull in June 2011.
LAND SNAILS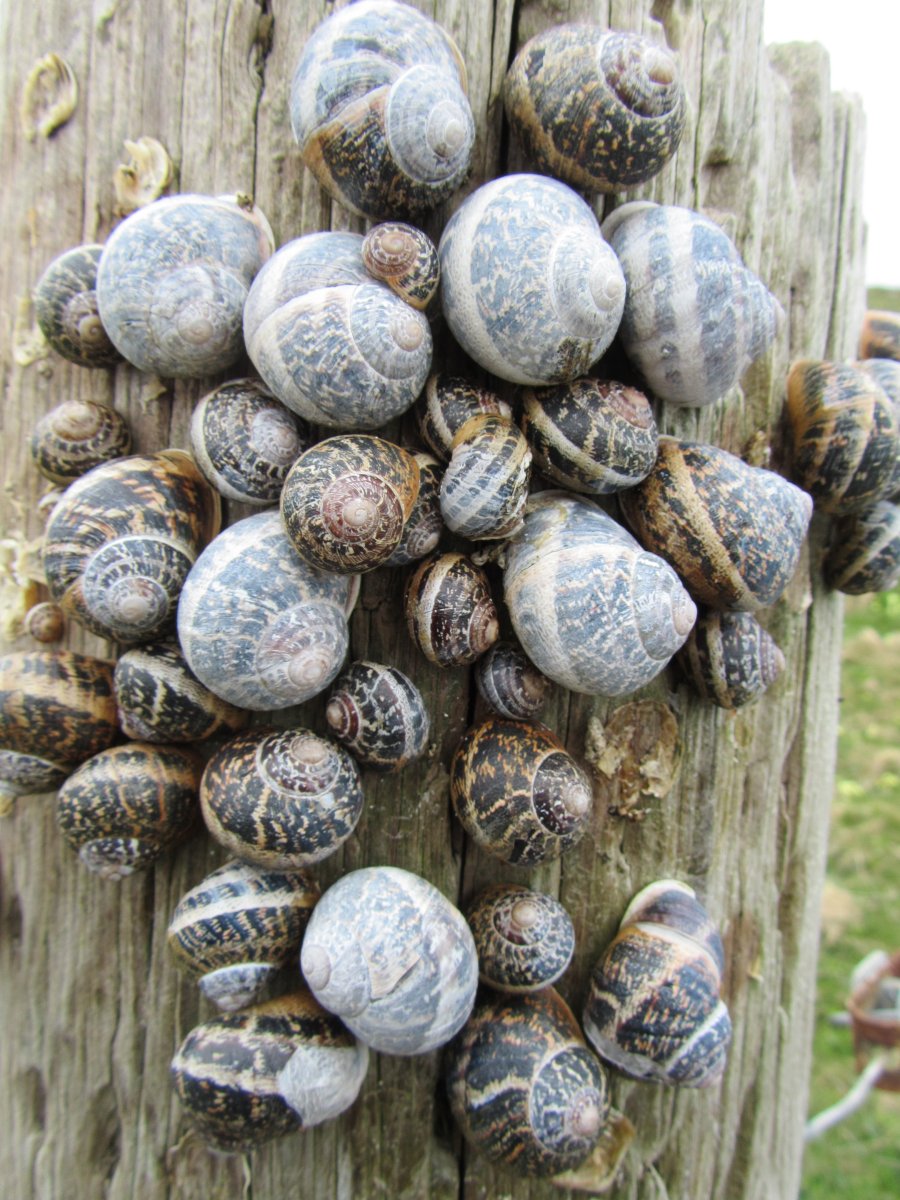 We probably wouldn't have included Land Snails, as they are pretty easily recognized. However this large group near the top of a fence post on Vatersay, Outer Hebrides in May 2012, was very intriguing. What were they doing? - basking? courting? We've not seen anything similar before or since.
SEA SLATER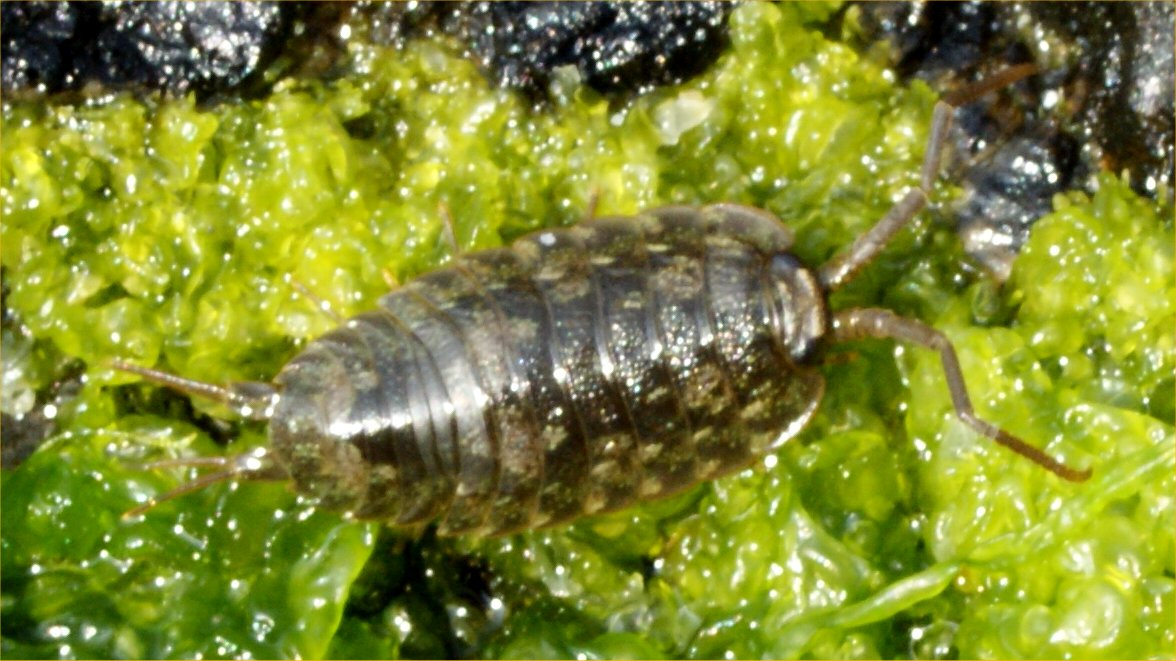 Another creature found in rock pools, this relative of woodlice and the ancient trilobites was spotted in Bay MacNeill, on the Western tip of Ardnamurchan, in April 2011.
SHORE CRAB
The familiar and ubiquitous shore crab, threatening fingers and toes in pools, the sea and occasionally even out of the water. The left-hand one was in a pool at Druridge Bay, on the Northumberland coast, in June 2010, the other on Mull in June 2011, where we also photographed the Sea Hare.
LION'S MANE JELLYFISH
These are often found thrown up on a beach by the waves. They are poisonous, so avoid touching them. If you see one in the sea, remember its tentacles stretch out sideways for several metres and a sting can be very painful! We saw the left-hand one in Bay MacNeill, Ardnamurchan in August 2010, the other in Market Bay, Ross of Mull, August 2014.
STONEFLY - possibly Perlodes sp
We'd not knowingly seen a stonefly before, so this splendid specimen, perched on a fence post by the Dipton Burn near Hexham in May 2013, was a great surprise. The name is very tentative - Alan Outen tells us that they are 'very difficult' and you need to inspect intimate parts of them very closely under a microscope for a positive identification. It would seem, therefore, that you could only ever find out what a stonefly was.
DAMSELFLY
These, obviously photographed during the mating season, are probably the Azure Damselfly Coenagrion puella, but we're open to correction, of course.
HAWKER DRAGONFLY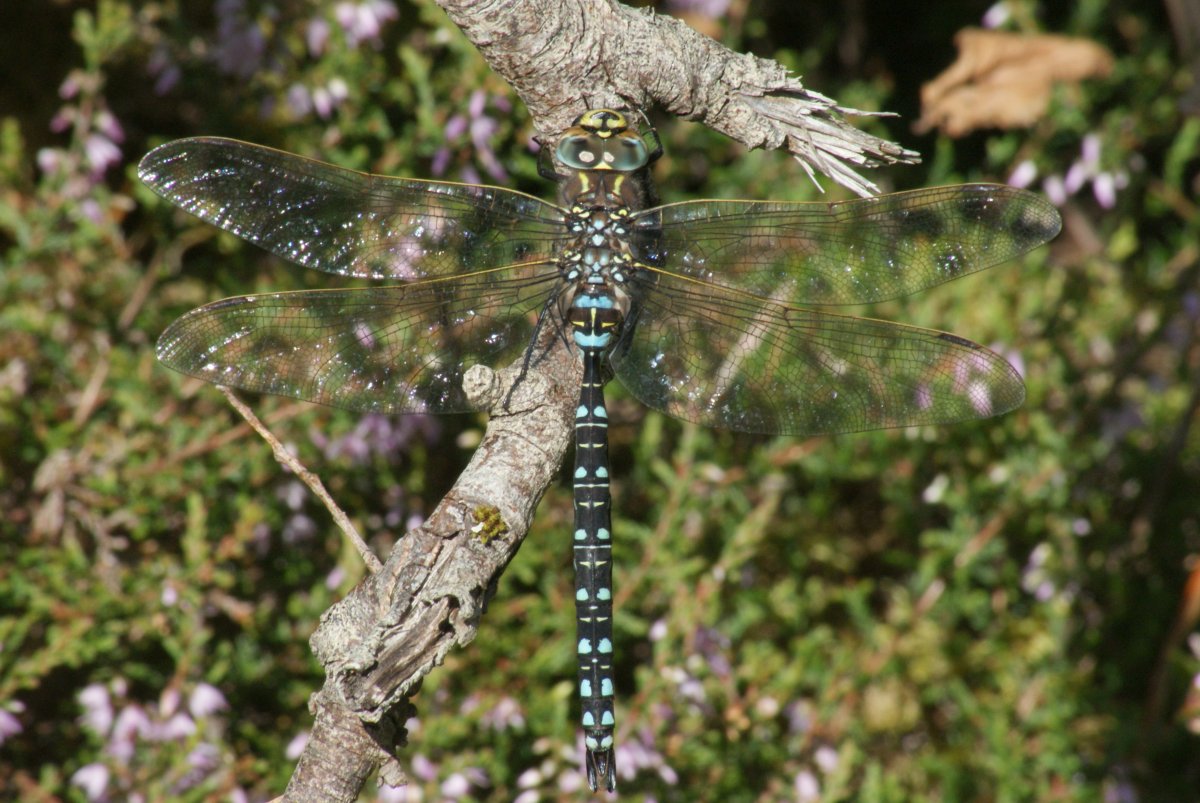 This specimen, probably a male Common Hawker Ashnea juncea, stayed still for several seconds on a twig on The Burg, Ross of Mull, in August 2012. We've not managed to snap a dragonfly in flight yet!
GOLD-RINGED DRAGONFLY
This beauty was perched very still, close to a stream near Achosnich, Ardnamurchan in July 2015. We wondered whether it might have emerged from the nymph stage very shortly before.
DARTER DRAGONFLY
As with the Hawker, we had to wait for this one, probably the Common Darter Sympetrum striolatum, to perch for us at Washington Wildlife & Wetland Trust in September 2013.
CARABUS NEMORALIS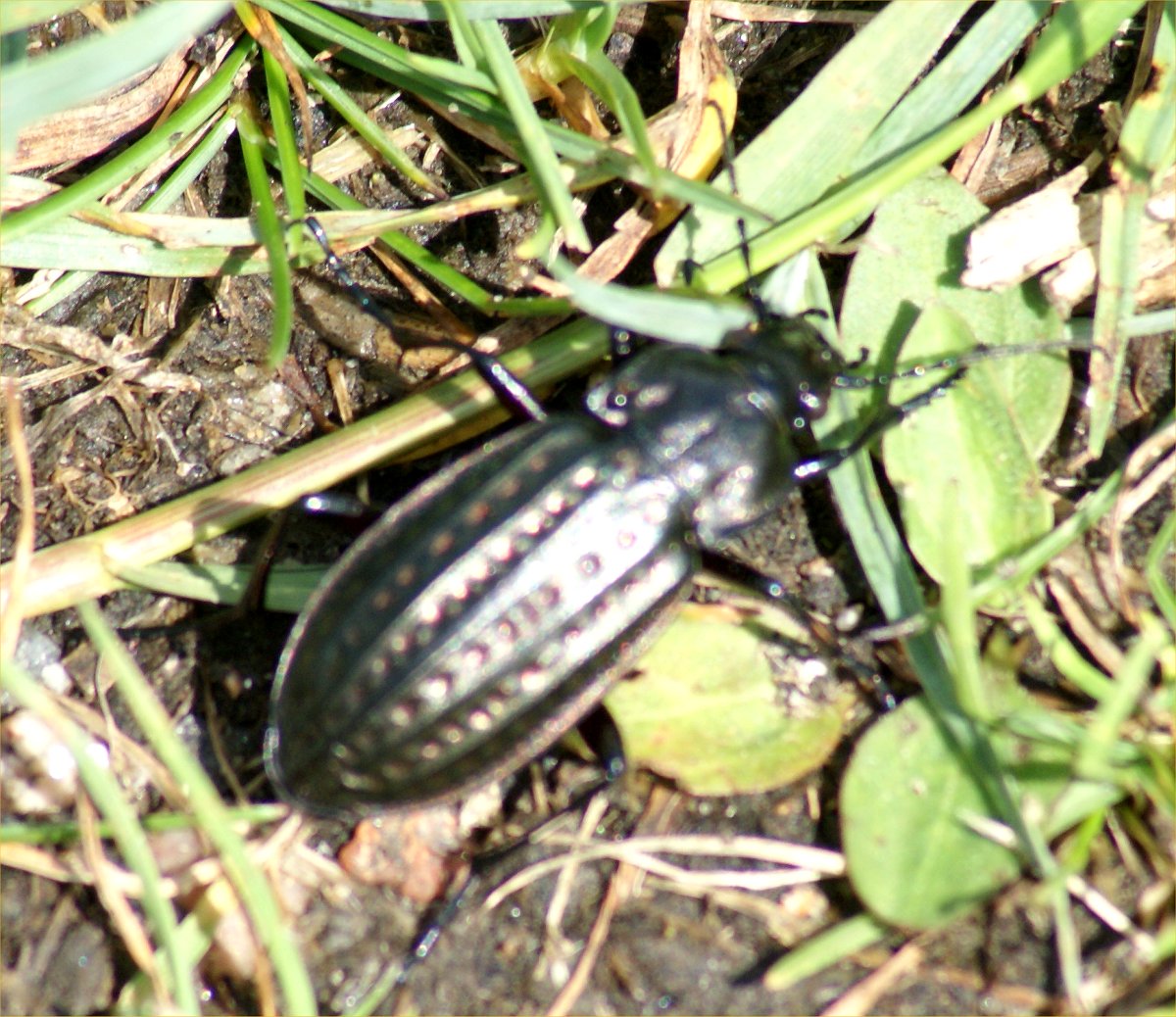 This striking beetle, over 20mm in length, was by the side of the road near Achnaha, Ardnamurchan, in July 2015. It seems not to have a common name - please let us know if it has one after all!
FOREST BUG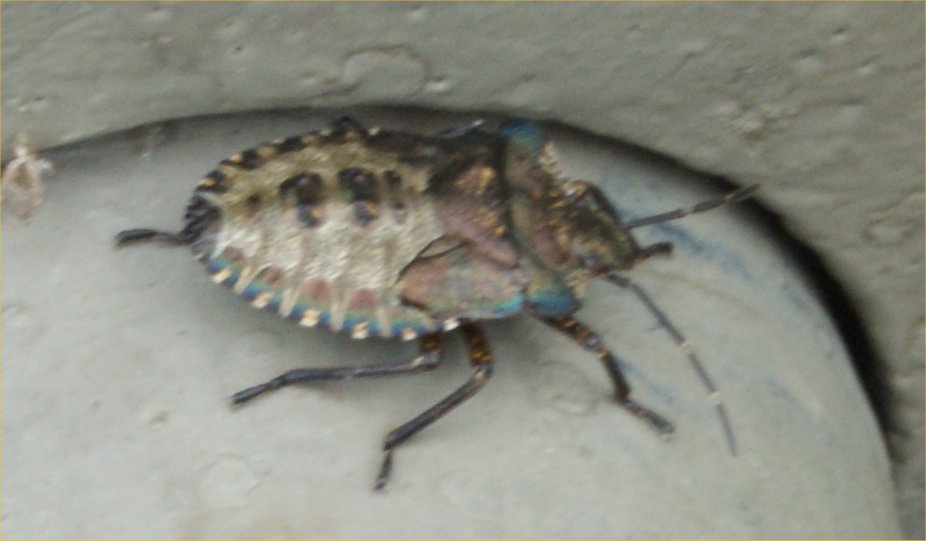 We found this specimen on a footbridge near Lambley Viaduct, Cumbria, in June 2010. From Internet searches it appears to be the species Pentatoma rufipes but a larva, not an adult, as the wings are not fully developed.
CRANEFLY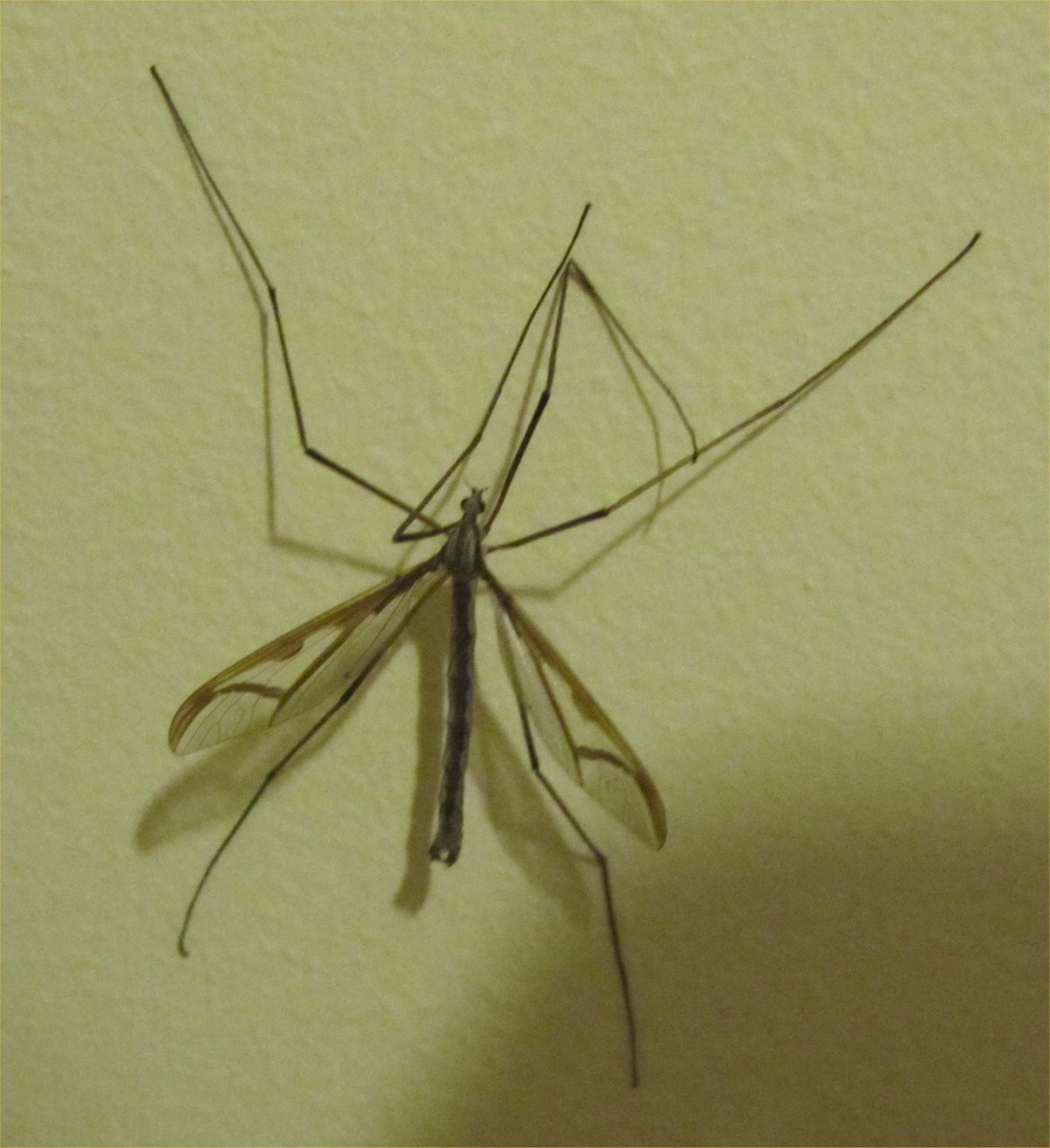 This was on the wall of our accommodation on the Ross of Mull in August 2013. We're pretty sure it is a male Pedicia rivosa - bigger and more elegant than your average Daddy-long-legs!
HOVERFLIES
A pair of hoverflies. We think this shows Syrphus ribesii and Melanostoma scalare, on Fleabane at Druridge in August 2009, but let us know if we're wrong!
LEPIDOPTERA - BUTTERFLIES & MOTHS
BUTTERFLIES
LARGE SKIPPER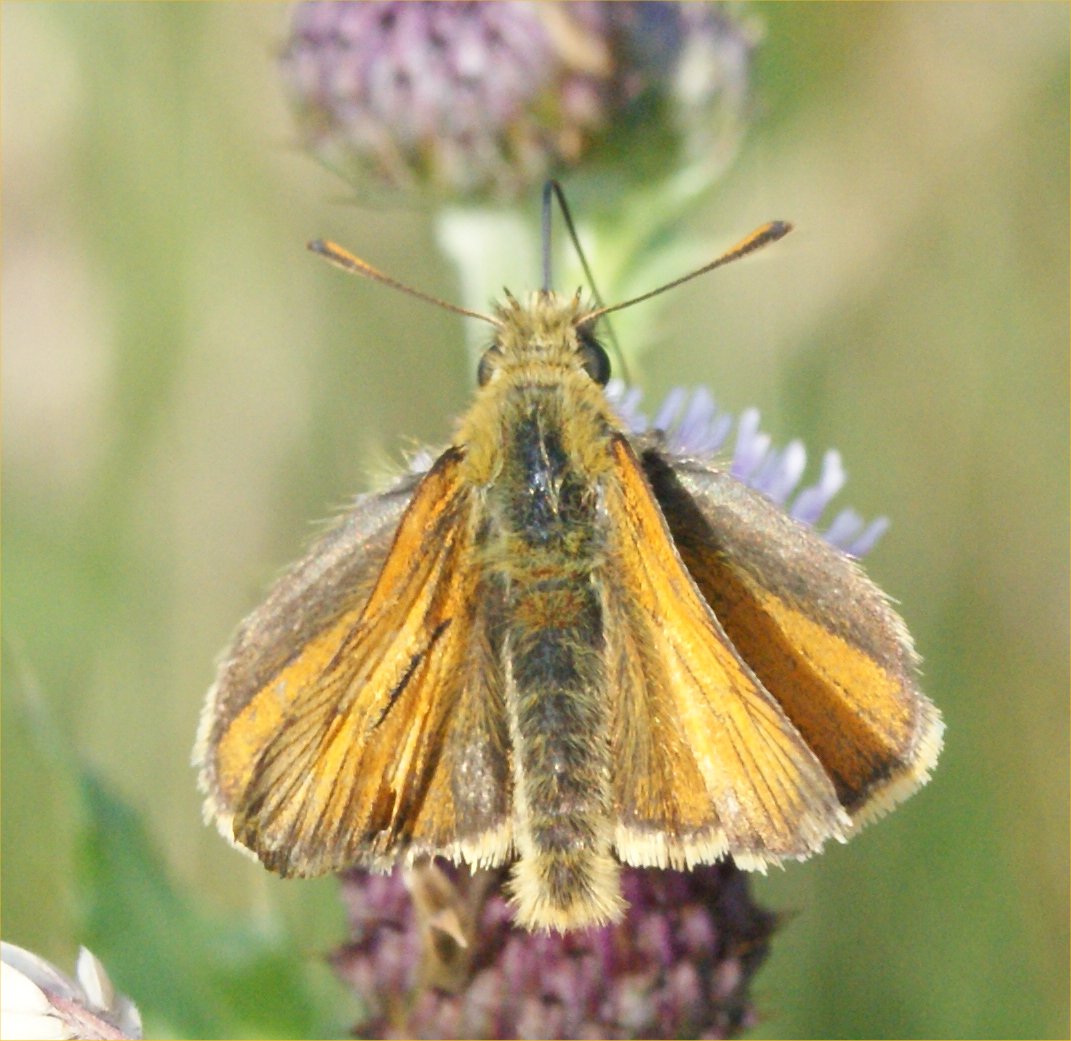 We saw this butterfly, on Knapweed, during a walk by the Goyt Reservoir, Derbyshire, in July 2011.
SMALL SKIPPER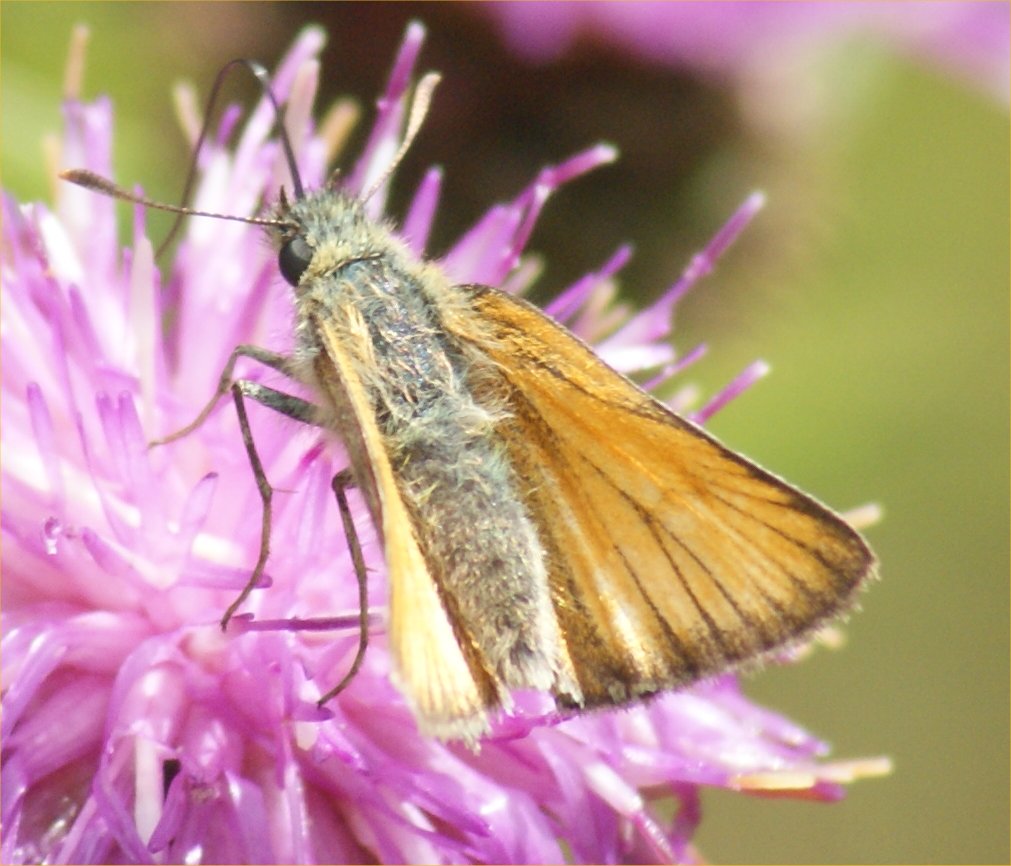 This one was on Saw-wort in Hauxley Nature Reserve, Northumberland, August 2013.
LARGE WHITE
We saw this female not on someone's cabbages but on bracken, Eyam Moor, Derbyshire July 2011.
SMALL WHITE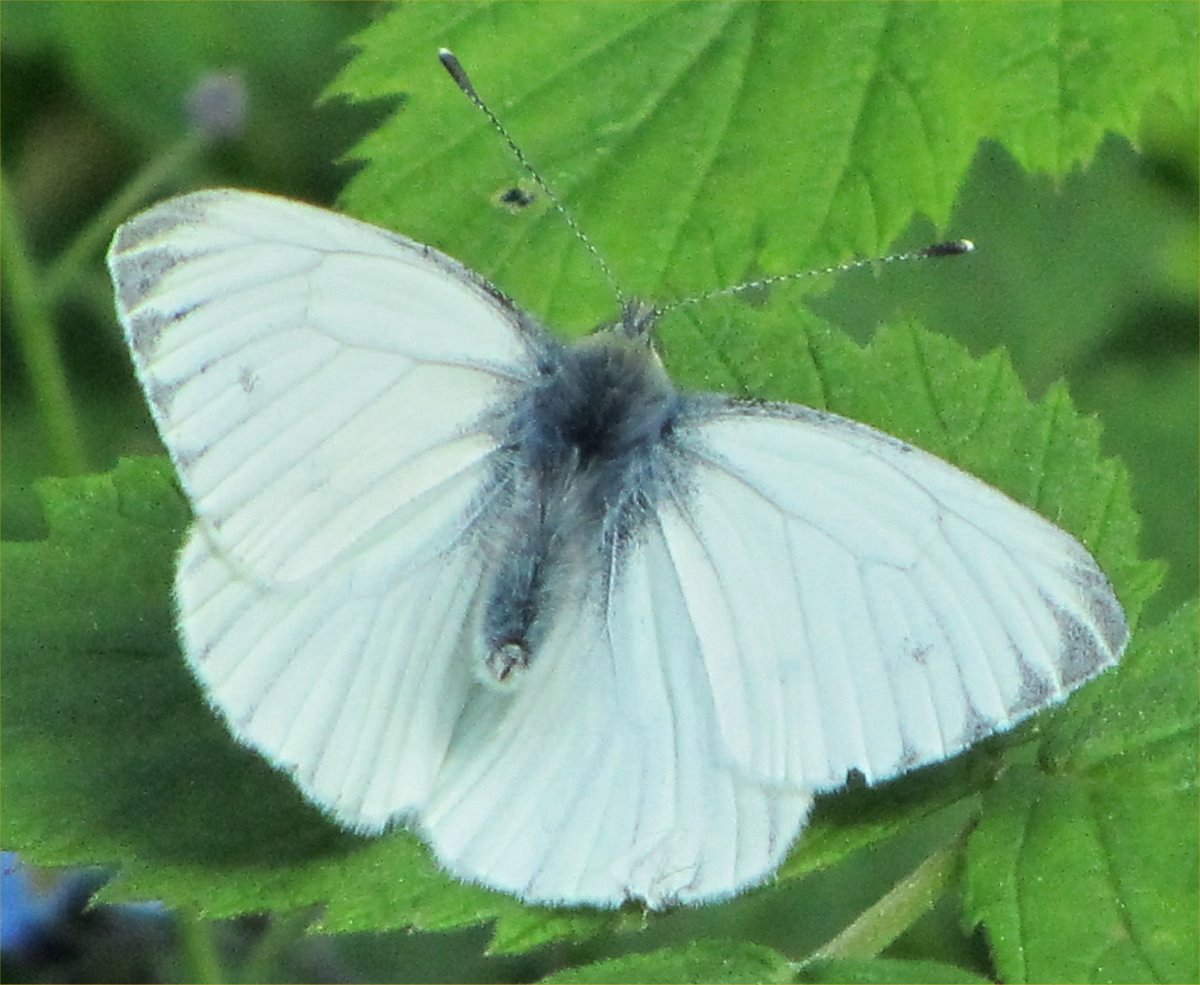 This male Small White was on wild raspberry leaves, Tyne Green, Hexham May 2014. The female has two bold dark spots on the upper side of each wing.
GREEN-VEINED WHITE
Two examples of this attractive butterfly from Northumberland, the left on Bluebell at Allenbanks in May 2014, the other on Knapweed at Druridge in August 2009.
SMALL COPPER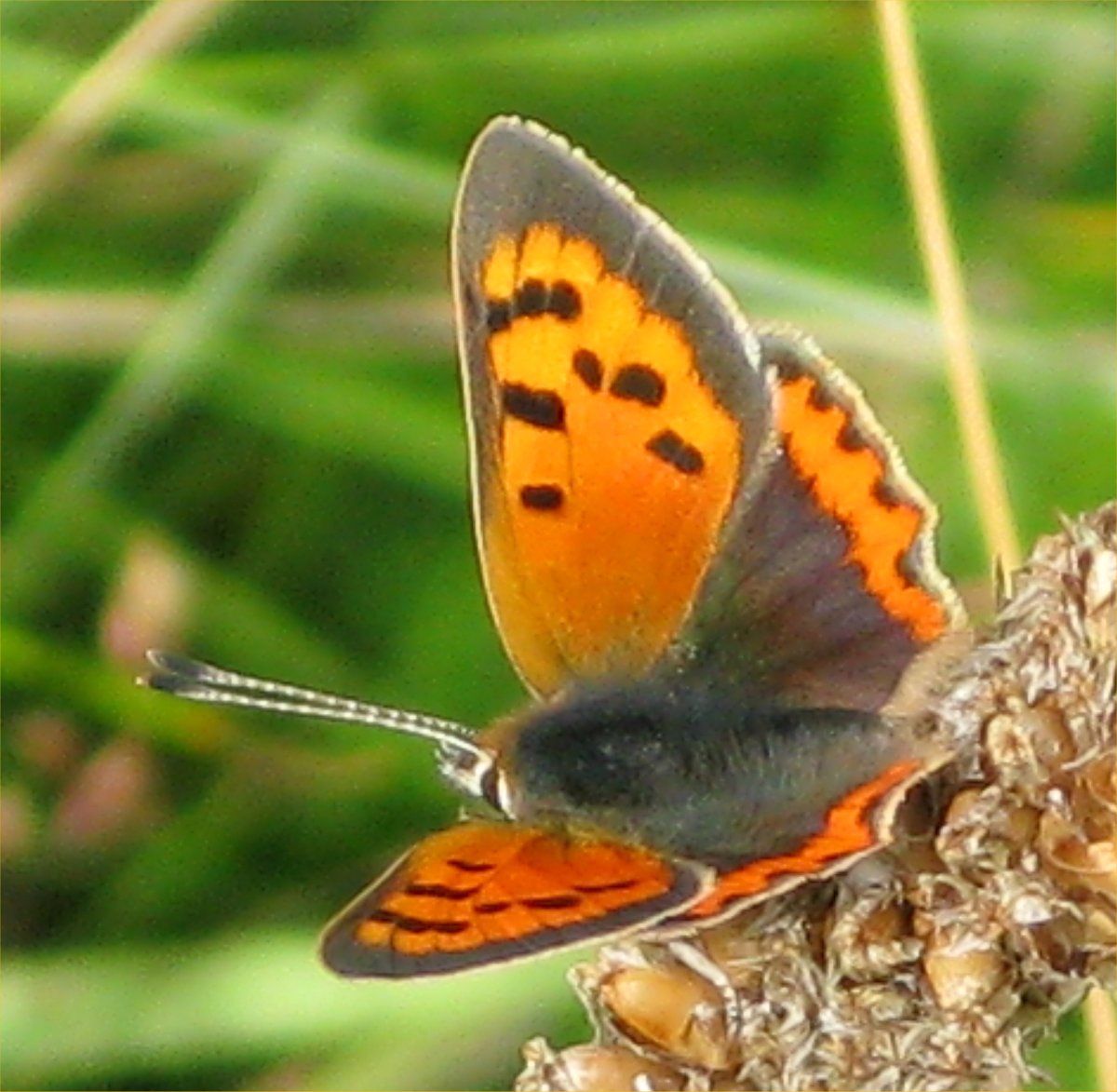 Similar at first glance to a Tortoiseshell, the Small Copper is indeed smaller and more reddish in colour. This one was on Plantain at Druridge, Northumberland, August 2009.
COMMON BLUE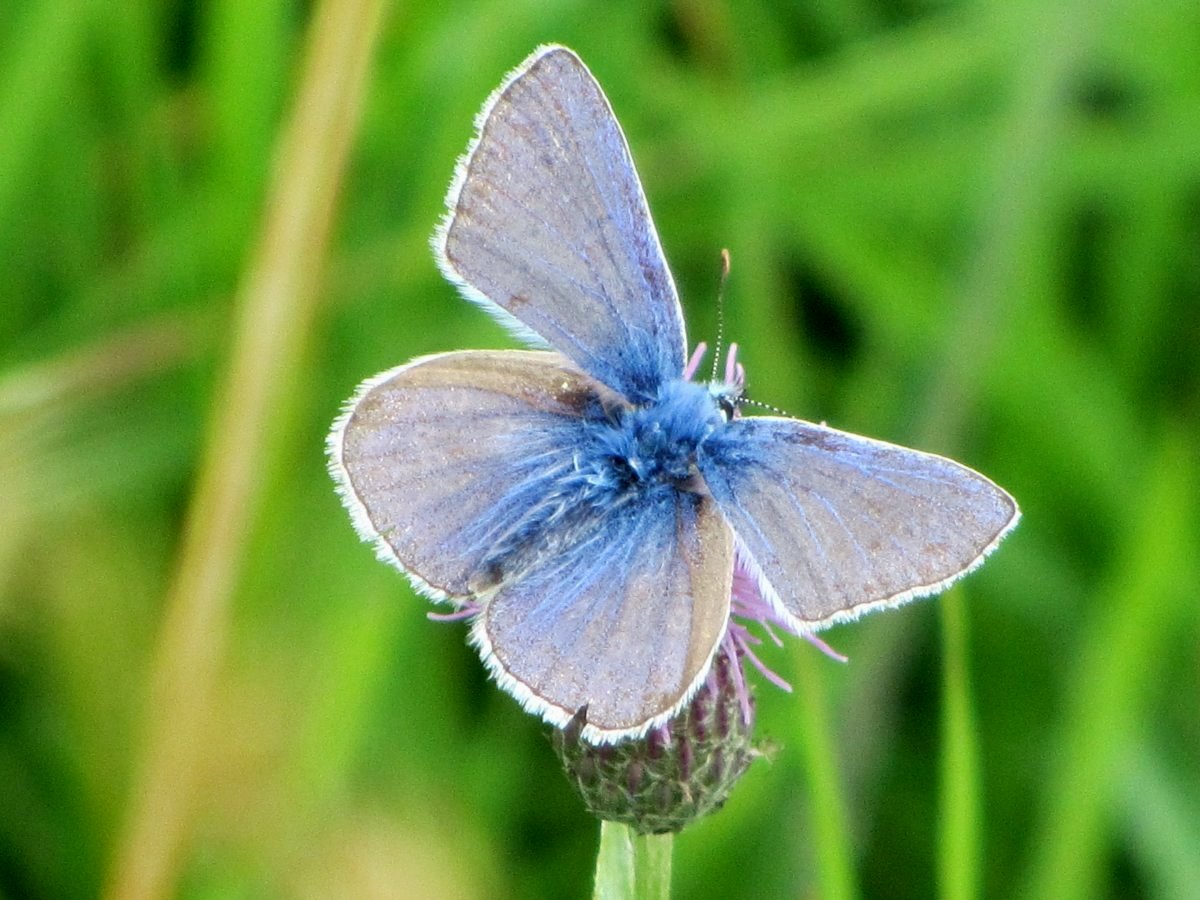 The only species of small blue butterfly we are likely to see in Northumberland, this male was on Knapweed at Druridge, August 2010.
RED ADMIRAL
A very common butterfly in Northumberland, often on the Buddleia outside our window. The left-hand one here was in the gardens at Belsay, which are well provided with butterfly-friendly flowers, in September 2011, the other on Ivy at Howick in October 2013.
PAINTED LADY
We see this frequently in some years but at other times it is quite scarce. This one was at Druridge, Northumberland in August 2009, accompanied in the left-hand picture by a white bumble-bee whose species we can't determine - any ideas?
SMALL TORTOISESHELL
Another common and attractive butterfly. We saw this one on Sweet William in Cragside, Northumberland, June 2011.
PEACOCK
One of the earliest butterflies to appear in late Winter, though this one was on Buddleia in August 2008 at Belsay, Northumberland.
COMMA
The 'tatty' wing edges distinguish this easily from the similar tortoiseshell, even if the 'comma' on the wing underside is not visible. This one was sharing a Teazle with a white-tailed bumble-bee at Druridge in August 2009.
SMALL PEARL-BORDERED FRITILLARY
A tiny and beautiful butterfly, this one sat quietly in the grass near Sanna Point, Ardnamurchan in July 2015. Strictly speaking we should have looked at the underwing, to distinguish it from the Large P-b F (only a millimetre or so larger!), but we think we've identified it correctly.
SPECKLED WOOD
Though we are near the northern end of its range, we often see this attractive butterfly. The left-hand one was in Portuairk, Ardnamurchan, in August 2010, during our holiday there, the one with a damaged wing in Washington Wildfowl & Wetland Trust in May the same year.
WALL BROWN
Far from being a 'little brown job', this is a very distinctive insect, with circular spots on both the upper and lower sides of the wings. This individual was on Knapweed at Druridge, Northumberland in August 2009.
MEADOW BROWN
The two large eye-spots in orange patches distinguish this from similar species. We saw this one at Hauxley Nature Reserve in August 2013.
SILVER-GROUND CARPET MOTH
We saw this striking specimen at Allenbanks, Northumberland in May 2014. We'll try to get a clearer picture next time!
MAGPIE MOTH
This beauty was on the Ardnamurchan Peninsula in August 2010.
LATTICED HEATH MOTH
We saw this tiny but spectacular moth at Howick, Northumberland, in July 2012.
EMPEROR MOTH
Not an easy pair to see in the long grass, at Portuairk, Ardnamurchan in May 2014. The female is the paler moth.
NOCTUID MOTH
We've had to admit defeat on this one, seen in Portuairk, Ardnamurchan in September 2012. There are many similar species of Noctuid moth, especially confusable when in this pose! Lead-coloured Drab Orthosia populeti seems the nearest but we're open to suggestions.
HYMENOPTERA - BEES, WASPS & ANTS
BUMBLE BEES
These are both clearly 'white-tailed' but we're not sure we can go any farther. The one on the left was on Teazle in Druridge in August 2009, the other on Scabious in Teesdale, September 2013.